The health benefits of Pistachio
The health benefits of Pistachio have been demonstrated in many studies. In general, pistachio have been shown to help support a healthy heart and to be a rich source of both protein and fiber, along with many other important vitamins, minerals.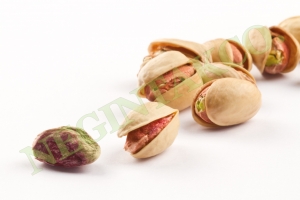 1) Pistachios help in reducing bad cholesterol, LDL and increases good cholesterol, HDL in the body thus preventing heart diseases. It also increases strength of the nerves making heart stronger.
2) Being a good source of dietary fiber, eating pistachios in reasonable amounts can benefit the smooth functioning of the colon.
3) 60% of the daily required phosphorous is present in a cup of pistachios which can prevent even type-2 diabetes.
4) Pistachios are an excellent source of copper and manganese, and a good source of phosphorus as well as potassium, calcium, iron, magnesium, zinc and selenium.
5) Half a cup of pistachios can supply adequate quantities of some of the most important minerals required by the body.
6) Vitamin E is very essential for a healthy skin and this anti-oxidant is present in pistachios.
7) Pistachio benefits include the presence anti-inflammatory properties reducing the inflammation in the body caused due to any problems.
8) These nuts are rich in monounsaturated fatty acids like oleic acid that is an excellent source of antioxidants.
9) The nuts are packed with many important B-Complex groups of vitamins such as riboflavin, niacin, thiamin, pantothenic acid, vitamin B6 and folates. Vitamin B6 is very important for a healthy immune system.
10) Regular consumption of pistachio consumption reduces the stress related, elevated blood pressure levels, by as much as 10%. This is one of the most important pistachio nutrition facts, you will come across.
11) Oil present in this nut has emollient properties helping skin to moisturize and keep it from drying. It is used as aroma oil, medicinal massage oil etc.